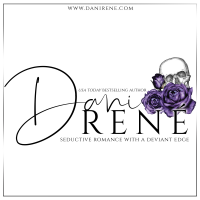 Dani René
Suspense, Contemporary Romance, Romantic Suspense, Romance, Erotic Romance, Dark Romance & Erotica
Dani is a USA Today Bestselling Author of a variety of genres, from romantic suspense to dark erotic romance and even BDSM romance. She loves to delve into the raw, emotional journeys her characters venture on, and enjoys the dark, edgy, and sensual scenes that fill the pages of her books. Dani's stories are seductive with a deviant edge with feisty heroines and dominant alphas.

Dani lives in the beautiful city of Cape Town, and is a proud member of the Romance Writer's Organization of South Africa (ROSA) and the Romance Writers of America (RWA). She has a healthy addiction to reading, TV series, music, tattoos, chocolate, and ice cream.
It takes but one positive thought when given a chance to survive and thrive to overpower an entire army of negative thoughts.
Robert H. Schuller